Daily 20 min Stretching Routine
Since the Corona Virus has hit the world, there is an increase in people's concern towards fitness and self-being. Some started eating healthy others exercising and many other ways to stay fit. I, too, have created something for the past four months, and that is doing yoga. And I have never before even did yoga for once after my secondary education. So but now I have learned somethings which I as a beginner experienced and which helped me grow. Let's begin by seeing Daily Stretching Routine.
There are several Stretching exercises which are present on the internet. But if we try doing them without proper guidance and testing for the first time, we might end up hurting ourselves. But there are some exercises which, if done by beginners or elderly, won't have any opposite outcomes. These stretching exercises are comfortable and won't take much of your time. Just a 20 minutes daily routine would quickly help in staying fit.
Let's first see the benefits of stretching.
How are stretching exercises useful?
Stretching helps you to open your joints and keeps you active. Simple stretches keep you lively and allow you to love your body, which will ultimately lead to building confidence. And also, it releases dopamine, which helps one to be happier and positive, which's more required for a healthy immune system if it has an owner who is comfortable and flattering.
Now that we are aware of the benefits of stretching, let's see our body structure and how we should plan our Daily Routine.
Body Structure
We must know the body structure to target the joints to get the desired results appropriately. This is our body structure, and to improve the flexibility, we should target all the joints. So in daily routine, we should dedicate at least one exercise which targets each of the joint. I have prepared a schedule accordingly to provide complete body relief and improves flexibility.
Daily 20 min Stretching routine
I have tried a lot many exercises since the beginning and found through all give the desired result not all of them are made for all. Here I have kept in mind people of all age groups to provide benefits and zero side effects. Let's begin with the routine:
Let's start from the lower body as it covers about 50% and provides a strong base for the complete body.
1. Padanguli Naman or Toe bending and Goolf Naman
Image credit: swan-yoga-goa.com
This exercise is one of the most basic activities, but the benefit it has to the toe is exceptional. If done regularly with the proper method for about 2 minutes, this exercise will surely benefit and open the ankle joint to a great extent. To see the technique of the training, you can visit the link and efficiently perform the exercise.
2. Ardha Titli Asana (half butterfly)
Image credit: medium.com
Butterfly pose or title asana is one of the most beneficial exercises for the back as well as knees, but not all can sit in that pose. This should be done both morning and evening, but for now, do this exercise just for once. And this will surely help in loosening the hip and the knee joints.
To see the method of doing the stretching properly, you can go to the link.
3. Supta Udarakarshanashana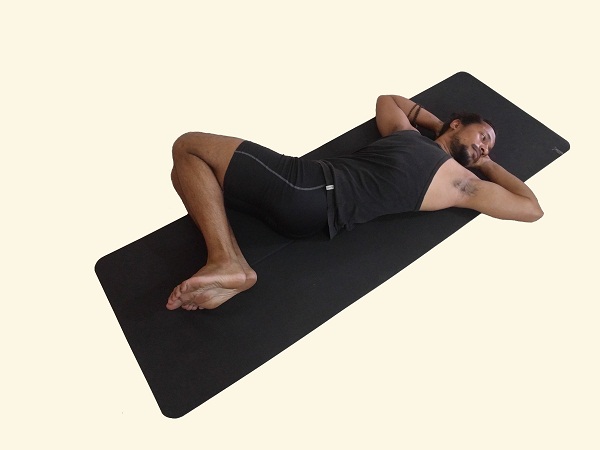 Image credit: pranayoga.co.in
If you have any digestion issues, then this exercise is surely for you. The asana gives an excellent stretch to the abdominal muscles and organs, which helps to improve digestion and eliminate constipation from your life. Also, for the long hours sitting in an office that causes stress in the spine. You can lie down and perform the stretching exercise by the following method.
4. Chakki Chalanasna (churning the mill)

Image credit: selfhealingonline.com
This asana is excellent for nerves toning. Apart from this, the exercise also benefits the organs of the pelvis and abdomen. One of the benefits of stretching routine is the regulation of the menstrual cycle. Women can also perform this during the first three months of pregnancy. This asana also facilitates in postnatal recovery. Do this exercise properly for three minutes, and you will surely see the benefits shortly.
5. Nauka Sanchalanasana
Image credit: yogapedia.com
This is an excellent exercise that has a significant effect on the pelvis as well spine. Not everyone can bend completely, so it's okay if you start with the half turning only in the front and not going completely down. Mostly recommended by gynecologists for related disorders. The exercise should be performed by everyone for approximately three minutes every day. Follow this link to get good benefits.
6. Manibandha naman and chakra
Image credit: telegraphindia.com
This is one of the most basic exercises but will surely benefit in relieving the stiffness in the wrist muscles. The exercise can be performed at any time of the day and should be completed by the elderly as well. Those who have professions related to writing or typing are the ones most benefited from this exercise. This releases all the tension in the wrist muscles and provides a better wrist position. Painful health problems like osteoarthritis and rheumatoid arthritis can be prevented by regular exercise. Follow the link to perform the activity effectively.
7. Greeva Sanchalasana
Image credit: shanitiyogashram.com
The neck is one of the essential parts of our body as it links the brain to the rest of the body. Long working hours and many other professional commitments have led to stress in the neck, even in youngsters. This stress can be quickly relieved by just dedicating two minutes of daily exercise to the channel. This neck rotation is an excellent way to keep the neck muscles away from any kind of problem. Follow the link and perform this whenever you feel stress in your neck muscles.
These were some of the exercises which, if appropriately done just for 20 mins as a routine, then will indeed prove to be beneficial in the long run. This will also help in staying positive and have an efficient immune system. For more such articles do follow us.